The Show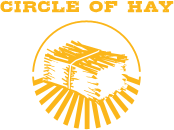 From a group of 8 square dancers and a dejected rodeo clown in 1984, Circle of Hay is now a major Tulsa-based organization providing high-concept artistic entertainment. The company has more than 50 employees from over 3 different countries and 6 liberal states.
Creator Bios
Captain Liberty
Founder
In 1984, unemployed rodeo clown Captain Liberty knew his luck was ready to change when he and a group of broke square dancers drifted into the same laundromat. Together, they were able to scrounge enough change for a single load of clothes - when his reds bled with their gingham and slacks they all knew they'd be together for the long haul.
Dom Perignon
Concept & Show Director
A graduate of Northeastern Oklahoma A&M - voted 2009 "Worst College in the Universe" by the Princeton Review - Dom was driven out of town when his fascination with British music was discovered by disbelieving peers. Determined to prove himself, he began staging fusions of country sport and English music. His landmark Handel Hogtie was performed for a record 5 nights.
Stumpy Mountbatten
Musical Director
The son of legendary Rutles manager Leggy Mountbatten, Stumpy is a Level 18 Night Elf and online auctioneer who listens to music in his spare time.
Ownership of the trademarks: Rutle Corps Limited for The Rutles (word & design), ™ Circle of Hay for Circle of Hay (word & design) ® and The Circle Rutle Creation Partnership for LUNCH (word & design). ™ Trademarks used under license.
© The Circle Rutle Creation Partnership.
---